So I've been making some items for SSVM as an addon(till further notice however) and would like some advice and/or criticism(if something can be improved) Here's the first image showing the armors I made first. P.S Mind the Rhino's (who for some reason look like gloom bat) as I'm still working on their color options.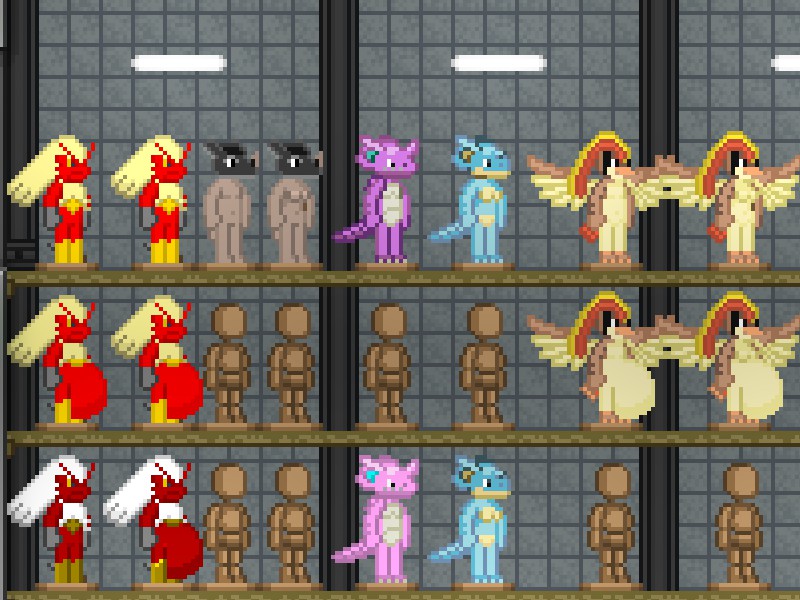 Really hope I did this right....
Edit: Good I got it right. Also mind the bellies I'll work on them later. For now their just prototypes.

And here's a preview of one of the many spos I've done so far.
Last edited by Heartlessdragoon on Tue Oct 24, 2017 3:05 pm; edited 2 times in total (Reason for editing : Added a new image)
Found some old SPOs I made back when Starbound was still in Early Acces. Going to add them maybe even update them once I finish the current Experimental SPO
Alright updated the Pidgeot head and completely forgot about the pidgeotto armor too. Updated it so it didn't look EXACTLY like Pidgeot.
The Before:
The After:
Last edited by Heartlessdragoon on Wed Nov 01, 2017 7:03 pm; edited 1 time in total (Reason for editing : Found out how to put spoilers. Sorry for the constant editing.)
To be clear. When I said "the SPOs i made", the seven sprites above, I meant the sprites I turned into SPOs
List of whats been added(finished):

~Finished the Pidgey Family line
~Made some changes to the Nidoking body(Looks more like nidoking then a costume(sort of))
~New SPO that can be placed behind blocks so you can make a custom shrine for them(like in the game their from)
~Goliath Grouper that....floats(so you can place it anywhere like in water or in the sky(its not anchored so it can be placed in thin air))
~Finally fixed the Rhino costume(Don't know how to add them. Dungeon secret or gift from tenant)
~Edited Pidgey family and Blaziken so that the shadows are more...."visible"
Not shown cause I forgot or NSFW:
  ~ColorBound, A shop for SPOs with more then one color scheme(example: The static Human SPOs with colored hair)
  ~Betty the Rhino(UB, Dungeon, Multicolored(and Heartless), NSFW(Don't know if I can show her on this site so go with it))
  ~The Rhino from Lion King the game(Tri-colored, Feet stick out of rear)

Things planned to add (but no promises):

~Jabun from Wind Waker
~Valoo(this one could be a problem so don't count on it)
~Persian VSO
~Girafarig VSO(SPO as well if I can make it cause a random event to happen like OV, AV, CV, or UB)
~Miltank(SPO/tenant/VSO)

Major Update:
Update #1 Date:3/10/2018:

Valoo is in the works now. No clue how long it will take to finish the base sprite first but so far I'm actually proud of how it looks so far.
Fixed the image. Still slightly blurry. Don't know why since the original picture is somewhat clear.
Last edited by Heartlessdragoon on Sat Mar 10, 2018 10:01 pm; edited 2 times in total (Reason for editing : Updating mod status)
Update 3/14/18
Valoo first sprite is 80% done
Valoo:
Your work is very great right now.
I'm so happy right now! Why?
This is why!:

---
Permissions in this forum:
You
cannot
reply to topics in this forum