So I've been making some items for SSVM as an addon(till further notice however) and would like some advice and/or criticism(if something can be improved) Here's the first image showing the armors I made first. P.S Mind the Rhino's (who for some reason look like gloom bat) as I'm still working on their color options.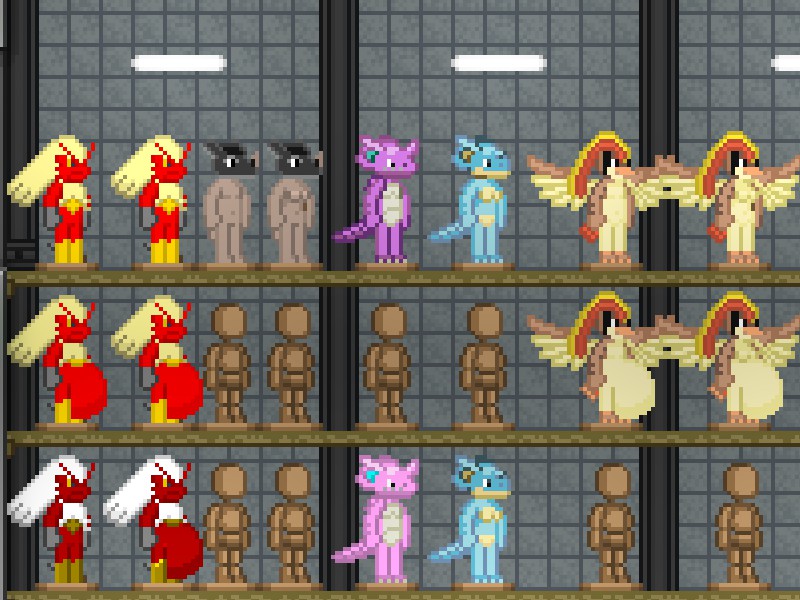 Really hope I did this right....
Edit: Good I got it right. Also mind the bellies I'll work on them later. For now their just prototypes.

And here's a preview of one of the many spos I've done so far.
Last edited by Heartlessdragoon on Tue Oct 24, 2017 3:05 pm; edited 2 times in total (Reason for editing : Added a new image)



Posts

: 3


Join date

: 2017-07-17



Found some old SPOs I made back when Starbound was still in Early Acces. Going to add them maybe even update them once I finish the current Experimental SPO
Alright updated the Pidgeot head and completely forgot about the pidgeotto armor too. Updated it so it didn't look EXACTLY like Pidgeot.
The Before:
The After:
Last edited by Heartlessdragoon on Wed Nov 01, 2017 7:03 pm; edited 1 time in total (Reason for editing : Found out how to put spoilers. Sorry for the constant editing.)

Similar topics
---
Permissions in this forum:
You
cannot
reply to topics in this forum